| | | |
| --- | --- | --- |
| The evolution of master artist Shaikh Rashid | | |
By Roy Kietzman » "It's not the style of art that evolves. It's the interpretation," maintains Shaikh Rashid bin Khalifa Al Khalifa, pondering his own two score years as an artist. "The thought or concept is the same: to have an interesting painting for the onlooker, a pleasant painting."

When it comes to the his work, it primarily boils down to landscape and figures for the artist. "Landscapes are a great source in art with figures, principally the human form, a means of inspiration."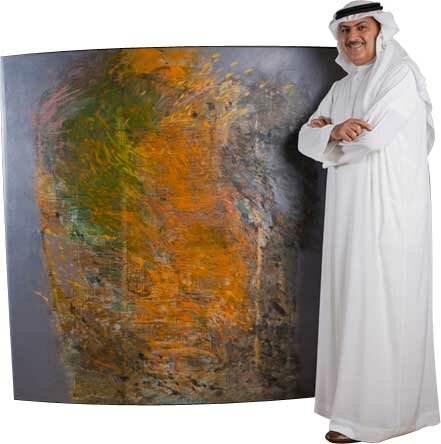 Whether using a plain or rough-textured surface or convex canvas frames, it helps to establish the total concept, Shaikh Rashid says. Using dotted patterns, a splash of colour or camouflage helps to set off the painting, whether landscape or figurative.

His own creations have concentrated on desert of seashore, of dancers, reclining figures. "The viewer can compare and perceive the continuity of what I do." The artist likes to compare his painting to the mashrabiya, the decorative wooden cases that cover traditional windows.

From inside, the viewer – the painter – can see out but from outside the viewer has a highly restricted look at what's on the other side, letting people in a house see out but obscuring the view of those from the street.

Shaikh Rashid's paintings can be easy to appreciate or take time to understand a view that may be obscured at first.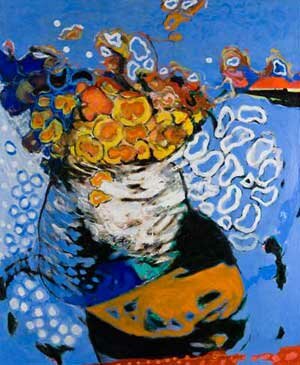 At age 14, he was given a photo of the venerable millennium-old Khamis mosque and asked to paint it. He executed the painting in oil, receiving a great deal of satisfaction. Forty years ago at an annual high-school art exhibition in Isa Town, the teenager was surprised when one of the guests was the late Amir, Shaikh Isa bin Salman Al Khalifa, accompanied by Prime Minister Shaikh Khalifa bin Salman Al Khalifa, who both showed genuine interest in the fledgling artist's work.

Their Highnesses both inquired of Shaikh Rashid about the technique and style employed in his painting as they thought the art demonstrated a true talent and that he should certainly continue to develop that talent. Though the youngster was pleased with being in the art exhibit at that time, he hardly considered it anything but a leisure pursuit. He couldn't conceive of making it a career.

"As a young man, I was enormously touched by the praise but then perhaps the time had come to really take the encouragement of Their Highnesses to heart." Thirty-eight years ago, the shaikh made his real art debut by taking part in an exhibition at the Delmon Hotel which was then the country's hub of social, recreational and cultural activities.

At the ruler's majlis, Shaikh Isa asked Shaikh Rashid many questions about his paintings: how did he create them? Why was he in interested in art in the first place? What was he planning to do with his life? After considerable discussion, the Amir felt that the budding artist should go to Britain for studies, to broaden his outlook on life and his art skills, with His Highness granting him a scholarship. The following year, with Shaikh Isa's words of encouragement and interest still fresh in his memory, he took off for England where, besides studies and absorbing life in Britain, he also participated in art exhibitions.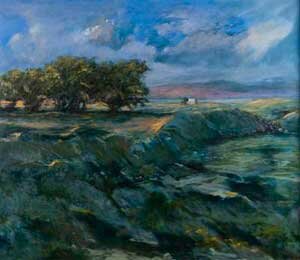 By this time, painting became a way of life, a passion, for Shaikh Rashid, a means of expressing emotions, of interpreting sights and experiences in life. Working principally in oil, he remained in that period primarily a landscape artist, joining the Ministry of Information art show in Singapore in 1980, continuing on to take part in other exhibitions in the Far East.

Consequently, his work was exhibited in France, Switzerland, the US (Miami and Washington) and Jordan with more recent shows last June in Paris and in December 2006 in Cairo. After initially being in a show at the Grand Palais in Paris in 1985 he's returned several times to participate in art exhibitions.

Though the encouragement of friends and family is invaluable for an artist, underlines Shaikh Rashid, only by exhibiting overseas can one understand whether his expression in art has any value when measured against other artists, still struggling or having arrived, as it were. "While art shows are important most anywhere, France, for me, is it for having a truly discerning art-loving public.

"The artists you meet, the perceptive public, the astute art critics all add up to a stimulating atmosphere in the creative world. Art shows are the number-one factor for an artist to gauge his success and public appreciation."

Up to 26 years ago, Shaikh Rashid had essentially painted only landscapes but then came a turning point in his art career: painting figurative studies, often in semiabstract forms, using rich, vibrant colours.

Though he's become celebrated for his painting, lesser known is his design talent for manufactured products, murals and tapestries. A journalist from the Washington Times, a daily newspaper in the US, wrote, "It is always interesting to meet someone whose reputation precedes. Everyone in Bahrain speaks of Shaikh Rashid bin Khalifa as a man whose artistic ability and humanity entwine whenever his name is mentioned."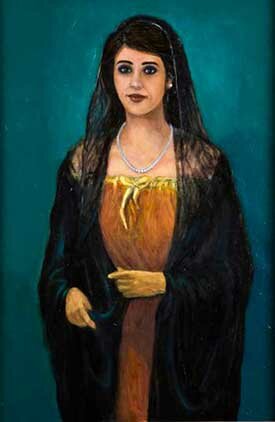 The Ritz-Carlton, Bahrain, Hotel and Spa has murals which he designed while certain Swiss-made watches bear his characteristic styling. Unknown to most of us who still put postage stamps on envelopes, some stamps have his touch, not to mention his commemorative-stamp designs, in 1982, for the 25th year of Shaikh Isa's accession to the throne as well as the 200th anniversary, in 1987, of the Khalifa dynasty.

Moreover, Shaikh Rashid has created logos, like the one of Bahrain Airport Services, also lending a creative hand to fabric, crockery, sculpture, massive objets d'art, architectural enhancements, interior detail. Art is in his soul but public service has been part of his commitment for nearly a quarter of a century as assistant undersecretary for tourism and archaeology and in 1993 as undersecretary for immigration, passports and nationality.

"I feel, given my experience both here and internationally and taking into account my innate sensitivity for art, I believe it's possible to apply that in my daily office life, work that I love. To improve the work environment and methods, creativity in management should be applied.

"I maintain that to be successful, whether in business or public life, you have to be creative," Shaikh Rashid points out.

Despite day-to-day administrative work, he still finds time to be in his studio, admitting that "painting provides a certain stability in my life."

His office is actually like a mini-museum of art with a dozen paintings in different styles and of various artists, ceramics, sculptures and other objects displayed very tastefully. "I like to change the paintings from time to time."

However, another turning point in his life was certainly his marriage to Shaikha Lulwa bint Khalifa Al Khalifa.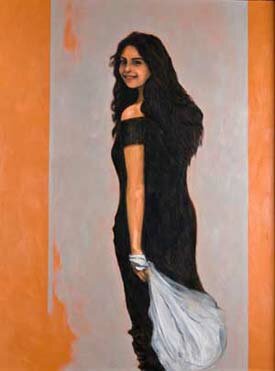 With their six children–Abdulla, Aisha, Hessa, Khalifa, Mohammed and Noor–"the smiles and joy one encounters with the family add a distinct, refreshing breath into the meaning of life," he says prosaically.

Aside from his passion for painting, Shaikh Rashid likes photography but especially actually collecting old cameras.

"I love tinkering with the old cameras, appreciating sepia prints of bygone days, still feeling that black-and-white prints aren't passe. Of course, these days we're led to believe that digital is in with everything else to be pushed aside," he says. From Hawaii to the Far East, Shaikh Rashid enjoys travelling.

When a score of artists banded together 24 years ago to form the Bahrain Arts Society, Shaikh Rashid was named its first president and continues as its honorary president. In the 1990s, he began working on convex canvases which, he feels, lend the illusion of dimension to an otherwise flat surface.

He's been pondering how to implement a truly monumental 21st-century artwork that could take several months to execute.

Shaikh Rashid firmly believes that art in general–whether the performing arts, architectural design or painting–is a source of inspiration for a society. "It's part of the quality of life and envelopes our lives. The very way in which we live is affected by art, enhancing one's life, giving more meaning and more quality to it."

• This article first appeared in the Jan/Feb 2008 issue of Clientele. Used with permission.