If you are visiting Bahrain for the first time and have resigned yourself to being without your favourite hamburgers, sushi or steak and kidney pie, prepare for a pleasant surprise. Just scanning the lists of restaurants and types of fare available in Bahrain is in itself a feast for the eyes. From Tex-Mex, Filipino and Indian to Lebanese, Japanese and French, eating out was never more delectable to fun-loving people and discerning gourmets.
Bahrains international credentials in the culinary area were established more than three decades ago with the emergence of luxury hotels and their classy dining rooms touting continental cooking.
But even before the international hotels came on the scene, Bahrain possessed a restaurant that found a place in Americas Gourmet magazine. This was in the early Seventies.
By the time McDonalds came to Bahrain in the late 1980s, a dozen hamburger operations had already been successfully opened in the country. Chinese, French, Italian and Thai cuisine also came on line in the Eighties.
But over the past years, the offer in the gastronomic area has burgeoned extraordinarily. While the offer at the countrys dozen top hotels is often exquisite, the gastronomic spotlight shifted to Adliya, a once sleepy precinct just south of capital Manama.
The owner of the first Chinese restaurant in the area, aptly called First Chinese, said he thought hed made a mistake opening a place there in the 1970s with few cars ever passing through. Today, Adliya has dozens of places to eat and the tiny lanes and roads are packed with vehicles at practically any hour.
Do you prefer Irish, Thai, Chinese, Italian, Mongolian, Indian, continental, Japanese? Or how about dining out under the stars in the courtyard of an old-time villa, in a cosy inn, a Big Apple loft-style dining room or in a peaked wooden palace that looks like it came straight out of Bali? Its all in Adliya.
But other parts of the country have their coveted tables as well. A genuine Italian mama in Riffa makes superb pastas, risottos and dolce while other towns and villages have their own claims on the gastronomic front ­ whether fish and seafood havens or equally fine tables for American, Asian, European or Middle Eastern cooking.
One of the reasons, however, that many visitors come to the Arabian Peninsula is to taste the wonderful specialities that come from this region. Though Egyptian, Iranian and Lebanese cooking have dominated whats referred to as Oriental cuisine, regional dishes have come into their own these past years, particularly when the palatial Al Sawani restaurant touting Gulf cooking opened on the eastern shores of Manama.
Rice, dates, lamb, pine nuts and pistachios are just a few of the staples characteristic of Bahraini cooking. And it must be said that the celebrated cooking of the subcontinent is inextricably a part of Bahrains own culinary heritage though blessedly toned down in its spiciness for non-Asian palates.
But the kebabs, rice casseroles, dishes of pulses, whole baked fish or lamb are primarily Bahraini with just a hint of the flavours and aromas of India.
Indian restaurants themselves are ubiquitous ­ from tiny eateries to exquisite halls fit for a maharaja. Whether vegetarian, regional cooking, tandoori, the curries or classic Mughlai, theres a dining room to suit you.
Traditional Arabic coffee shops have always been around in Bahrain where usually only men would drink demi-tasses of Turkish coffee, the Gulf version of brewed coffee (gahwa) or a demi-glass of sweetened tea.
Like coffee shops across the Middle East and Europe over the past centuries, the spots are a hub of social activity: debating current events, discussing town gossip and sports news while playing backgammon, carrom or cards.
Western brews like espresso and cappuccino find no place at these traditional coffee shops. But then, using the coffee bean to create a beverage was an innovation that began on the Arabian Peninsula so the coffee culture has the most ancient credentials here.
After a few years of seemingly being in decline, the Arabian coffee shop has witnessed a new wave of interest, with even non-Arabs enjoying the characteristic atmosphere where the scent of hubble-bubble permeates the air, and the salons have been upgraded to appeal to a wider group of customers.
In the 1980s, only one restaurant was known to serve espresso and foamy cappuccinos. But in the 1990s, a café society emerged that saw scores of coffee shops being opened. Some of them were pleasant and homey with a bookcase of tomes and a magazine rack for leisure reading, others included an arty Soho café, a garden-type café with a Manneken Pisse and Internet cafés.
Some of the coffee shops have literally dozens of coffee roasts and even coffee concoctions, or coffee cocktails, a selection of teas and infusions that would surprise a marquise. Quiches, soups, copious salads and baked potatoes with filling spilling over onto the plate are the usual café fare. But the desserts are luscious ­ cheesecakes, carrot cakes and sinfully chocolatey chocolate cakes among a sweet selection of other pastries.
Its estimated there are more than 2,000 restaurants, eateries and cafés in Bahrain so we wouldnt dare review them all. But as one who eats out at least seven days a week, I feel that I might have knowledge in things culinary in this country. Lets see whats on offer: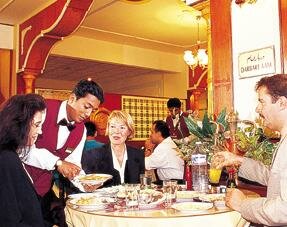 " Indian restaurants are ubiquitous across the country but it youd like to try fine cooking ­ with spiciness that can be adjusted to non-Indian palates ­ try the princely Nirvana, Lanterns or Utsav. If youd like good fare but in a more modest setting, veggie-only Central Café or Shringar are good options.
" Chinese cooking came to Bahrain generations ago, and the First Chinese Restaurant is still going strong but Jade Garden and Hong Kong are excellent, too.
" The lively Hard Rock Café ­ part of the international chain ­ with its acres of brass and ironwork, dining booths and great music is a big draw, especially with the younger crowd.
" Italian cooking has become wildly popular over the years, and Primavera has become primero for the cuisine of the peninsula but Cicos also has an enviable reputation.
" For genuine homemade pasta and other specialities, Mammamia is the place to go, run by an equally genuine Italian mama. Spiga, Roma and La Taverna are also my favourites for atmosphere as well as fine food.
" Another gastronomic style thats become a favourite in the country is Far Eastern, and the Japanese Kawa, Kei and a bistro-style spot, Sushi-ko, can be singled out. But for a wide range of fare from the region, Monsoon, like a wooden temple from Bali, is a hands-down great choice. Soie runs a close second.
" Its not elegant but for Thai food, Shada has been popular for years, as is Up A Tree Cuppa Tea with its rustic, old-style setting. Its far Far Eastern but Trader Vics is a world apart in promoting exquisite Polynesian cooking in a high-peaked dining room which overlooks a lagoon.
" For the grand cuisine of France, Versailles is the elegant dining room to head for but a couple of continental restaurants fuse French with other European dishes on the menu. Le Jardin and its flamboyant Chef James Bill will certainly offer fine gourmet cooking at attractive prices.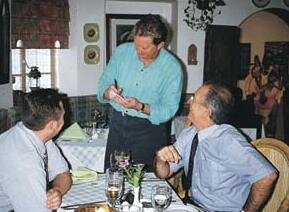 " Cosy Krumz is like an inn on the European countryside with big Bradley Bigg as the affable host. But who can beat Jim Lawlesss hearty welcome at Jims with its Irish and continental fare?
" Middle Eastern cooking takes pride of place at the palatial Al Sawani (which has many Bahraini specialities on the menu), Tarbouche and Al Abraaj. For authentic Iranian cuisine in an elegant setting, Golestan is a must.
" For the fast food junkie, the island is peppered with McDonalds, Burger King, Dairy Queen, the made-in-Bahrain Jasmis plus a host of other restaurants. Those who like dining halls with massive salad buffets, themed menus and Death by Chocolate desserts will love Bennigans, Chilis and Fuddruckers.
" Food courts have been another phenomenon to have hit Bahrain with Yum Yum Tree the first to cater to just about every palate. Now food courts at Barbar and Seef Mall keep shoppers happy, too.
Whether peckish, practical, an Epicurean or an unabashed gourmet, you will discover that Bahrain certainly has something for everyone.