As anyone who has been to a race course knows, to watch an Arabian horse in action is to witness poetry in motion.
For thousands of years, the Middle East and Arabian Gulf have enjoyed a unique relationship between the desert, man and his horse: a bond born of love, respect and loyalty.
Even before the beginning of Islam, horses were a symbol of power and prestige. Battles were waged from the backs of horses or from the chariots they pulled.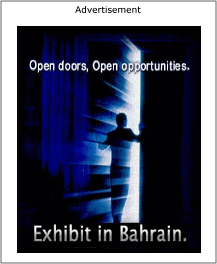 The earliest known treatise on the horse is believed to have come from Mesopotamia. The Hittite Hippologica Hethitica, which was inscribed on clay tablets about 1360 BC, deals with the care of horses used for war and racing chariots.
Yet horses were often the cause of war. One ancient dispute that waged over many years was between the Abs and Thubian tribes. The cause of the conflict was a disputed horse race between two famous equine contenders - Dahis and Gabra.
Even when not for battle, the acquisition of equines indicated wealth and standing, beauty and ceremony. The birth of an important foal was cause for celebration and their special status was reflected in Arabian poetry -- in fact horses were considered of equal importance to poets and soldiers.
Ismail bin Ajlan wrote: "Only horses I consider as money, although I am so wealthy I share with her my food and prefer her to my children".
Horses are mentioned throughout the Holy Quran and Prophet Mohammed urged his followers to show special respect for horses. He also said: "Good will remain in the foreheads of horses till the day of resurrection."
The Arabian horse is a descendant of the early horses of central and western Asia which evolved many centuries prior to the Christian era. They traditionally ran with the wind, fleeing from their enemies. An early Bedouin term for horses was "Drinkers of the Wind".
Noah's great-great grandson Baz (or Bax) was one of the first to have captured these free spirits in Yemen and went on to initiate a long line of fine breeding descending from the stallion Hoshaba and the mare Baz.
King Solomon also adored his horses and is described by one notable author, E H Edwards, as "the greatest horse dealer of all time". He was reputed to have had 1,200 saddle horses and 4,000 chariot horses.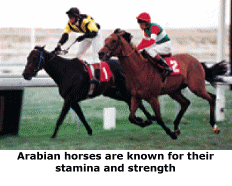 TTaking a brief skip through Bahrain's archives, horses are depicted in some Dilmun seals dating back more than 4,000 years. Archaeological excavations at the Al Hajar site revealed a horse skeleton which is also thought to date back to 2000 BC, and excavations at Bahrain Fort on the north coast unearthed a stable which is believed to have been built around the 14th century AD.
Bahrain's premier native Arabian horses originated from the founding-stock of five pure-breds transported over from the Arabian Peninsula. The famous five were Koheilah, Obeyah, Dhahma, Shuwaimeh and Saqlawieh. Under the guidance of Bahrain's Amiri Arabian Stud and using these five as founding stock, bloodlines have since remained pure and untainted and have resulted in a total of 21 specific strains of Arabian horses presently bred in accordance with the AAS. In particular, those animals of the Koheilah Jelabieh strain are thought to be special.
"They have so much soul and character, they are almost human," one breeder told me.
Pure Arabian horses are renowned for their stamina and strength. They are hardy, good "doers" familiar with the searing temperatures of their native climes and can excel over the difficult, frequently hard and rocky terrain.
The Bedouin rode their beloved horses over long distances in the desert. The first recorded race took place in the year 4 of the Hijrah ending at Saniyat al Wuda'a in Saudi Arabia.
Horse sports, principally racing and show jumping, are extremely popular in Bahrain. The governing body for racing is the Equestrian and Horse Racing Club (EHRC) in Sakhir, which organises weekend races from October to March. Not all horses raced are of the indigenous Arabian breed. Modern racehorses are usually tall, intelligent, stately thoroughbreds, a distinct and separate breed descended from the progeny of three Arabian stallions imported into England in the late 17th and early 18th century.
Bahrain's ruling Al Khalifa family is passionate about the sport and plays a fundamental role in monitoring the breeding programmes of both traditional Arabian horses as well as thoroughbreds.
There are four official stud farms, breeding around 1,500 registered thoroughbred foals annually. There are more than 100 brood-mares being serviced by 41 stallions, two of the leading local thoroughbred sires being Enharmonic and Jazz Ballet, whose grandfather was the famous Mill Reef.
More recently, the Amiri Court's thoroughbred stallion Anchorman won BD56,000 (approx $150,000) over his five year racing career before retiring to stand with the mares in the Amiri Court Stud Farm.
All the drama and passion of the Sport of Kings can be seen to unfold each Friday afternoon of the winter season on the beautiful turf race-course in Sakhir. This modern complex was built in 1980 and boasts two grass tracks and one sand exercise lane surrounding a picturesque lake inhabited by flamingos. The grandstand is reminiscent of a cluster of Arabian desert tents and has a capacity for 15,000 spectators. There is stabling nearby for 600 horses.
The annual racing calendar includes roughly 25 weekly meetings featuring about 145 flat-races for local Arabian horses and imported or home-bred thoroughbreds. There are currently 22 racing trainers, 40 jockeys and 44 owners registered with the EHRC, plus 250 horses "in training".
All other equestrian sports fall under the auspices of the Bahrain Equestrian Association. The BEA's annual season also runs from early October until the end of April and includes show jumping, dressage, long distance endurance riding, Arabian shows and one cross-country event. At present there are no eventing or polo activities.
As well as the flamboyant pure-bred Arabians, their indigenous brethren of less exalted background, and the leggy, elegant thoroughbreds, there are thousands of horses in Bahrain of assorted breeds and backgrounds. Shetland and other British native ponies have been imported, as have Dutch competition horses, Australian stock horses and Irish-bred show jumpers. There is an assortment of almost 400 horses registered with the BEA for competitive purposes, around 600 riders and an indeterminate army of occasional weekend riders.
Many young Bahraini lads compete in all manner of horse sports: one day galloping along the verdant racecourse, the next week picking up a rosette in a show-jumping arena. Whatever, the love of horses has the same inexplicable effect all over the world. It brings people together with a common interest. Race, colour or creed, politics or religion are unimportant to those handling and dealing with horses. Whether their horses are kept in smart, air-conditioned stables supervised by trained professionals or in simple, local farms tended by village boys and wise old men, equines of noble breeding stand in peace and harmony alongside those of modest ancestry.
There are much loved horses everywhere in this kingdom of the horse. A classic poem by Salim Abdulla Haj, written in the late 1860s for the ruler of Bahrain, refers to the Arabian horse as "delicate /exquisite / like a gazelle, alert / The Treasure of Ages".
Thousands of years ago, we captured Equus and harnessed him to our needs and whims. We took away his freedom and over the years silenced the whispers on the winds of their world. Yet despite losing their liberty, horses have never lost their pride.
At least in Bahrain, horses are still revered. The Drinkers of the Wind can truly be known as the Treasures of Ages.
RELATED LINKS: