By Lynn Collins
Pictures courtesy: Bapco Archives and Bahrain National Museum
When I arrived in Bahrain from Scotland with my parents and my younger brother in August 1951 I immediately felt very much at home - a feeling that is still with me some 50 years later. I am sure it is more to do with the warmth of the Bahraini people than the fact that the sun shines more in Bahrain than in Scotland. Whenever I return, which I do as often as possible, I just love wandering round the Manama souk and each time I relive my childhood, particularly when I talk with merchants who remember me from "way back then" and who welcome me warmly.
At seven years old, I had never been out of the UK before and the adventure started with the journey on the Royal Scot train from Glasgow to London. We stayed overnight in a hotel in London before going by coach to Heathrow airport for the next part of the adventure, flying on an aeroplane. We travelled in a BOAC Argonaut which had to land to refuel three times, stopping in Rome, Beirut and Kuwait before arriving at Muharraq 23 hours after leaving London.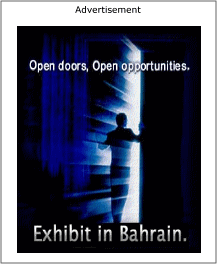 Recently I had a chat with Desmond Johnstone, another former expatriate, who brought his new bride Maureen to Bahrain in 1948. Theirs was a long and complicated journey from their home in Ireland travelling by boat, boat-train, train, small aircraft then finally by motor launch to arrive at the landing stage in Manama where the Delmon International Hotel is today and of course nowadays is quite a long way from the sea. Desmond's initial journey to Bahrain was even more complex. He left Ireland in December 1945 and travelled by boat from Larne to Stranraer. He then took a train to Liverpool from where he sailed to Alexandria via Malta. He then travelled by train from Alexandria to Cairo. In Cairo, after a break of a couple of days he boarded an Imperial Airways flying boat which flew to Bahrain with one stop at Basra on the way. This journey took some two weeks and was a real adventure. The six and a half hour Gulf Air flight from London to Bahrain nowadays is really just a short jaunt by comparison.
It was dark when we arrived at the airport and I remember feeling like a movie star walking down the steps which had been pushed out to the plane. It was just a few metres across the tarmac runway to the Bahrain Airport arrivals hall which was a small square cement building with a flat roof. The air conditioning consisted of two very ancient electric fans which were not very effective on that hot August night. It is very difficult for those who did not see the original airport to imagine how it was, particularly compared with the magnificent building which is now Bahrain International Airport.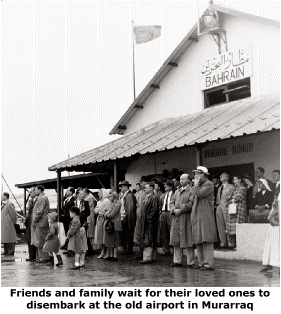 Something which made a strong impression on me and which I remember very clearly was seeing the burial mounds on either side of the road as we drove to our new home in Awali. It was dark and the mounds looked very imposing and surreal and also a little bit scary. Nowadays I encourage people visiting Bahrain to make a point of going to the Museum where actual burial mounds can be seen as well as rooms full of wonderful examples of life in Bahrain over the years. In my opinion, the rooms featuring the history, archaeology, pearl fishing, flora and fauna, and the lifestyle all sum up Bahrain beautifully. I always say to people who do not know the country that if they are there for just a day or two, a visit to the museum is a must since it encapsulates and captures the flavour of the best of Bahrain.
Awali was a small town, populated mostly by expats from around the world whose skills were employed in the setting up and running of the refinery. All the manual skilled trades were represented in Awali, as were doctors, dentists, nurses, secretaries, accountants and schoolteachers. From as early as the late Forties, all the homes and offices within Awali were fully air conditioned and it was a magical place to spend formative years. I have heard in recent times that Awali was the very first totally air conditioned town in the world.
Sport was important at Awali School and swimming, cricket, football, hockey, tennis, badminton and squash were available to all Awali residents. Films were shown in the outdoor cinema, which of course meant after dark, and I remember taking blankets and hot water bottles in order to keep warm at the cinema on cold winter nights.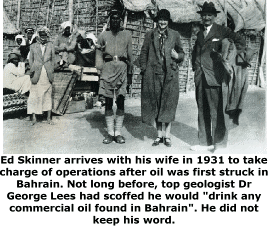 To go shopping in Manama my friends and I would take the bus from Awali. The bus stop in Manama was on the edge of the sea opposite Bab Al Bahrain. This was where the fleet of fishing dhows were anchored.
This area is now part of the land reclaimed from the sea and where we used to see dhows bobbing up and down now there is the post office and car park.
At even as young as eight years old, we were perfectly safe to wander around the souk, spending our pocket money in the small hole-in-the-wall shops. We shopped and bartered for sweets, toys, nuts, hair clips, ribbons and the like. Many of the stores I remember from then, such as Jashanmals, Novelty Stores, Moon Stores, Lucky Stores, Bastaki, Koshabi and Ashrafs, are still very much part of the Bahrain scene.
RELATED LINKS:
In search of the Garden of Eden