One of my earliest memories is going with my mother fairly soon after we arrived in Bahrain to choose a carpet from Jashanmals and I also remember saving my pocket money to buy my first camera, a much coveted Brownie 125 from Ashrafs.
In the back of the Ashrafs store on Bab Al Bahrain road there was a small, air conditioned drinks area along the lines of an American soda fountain which had some booths and a counter with high stools where we would have a cold drink before it was time to take the bus back to Awali. My drink of choice then was cherryade and on the very rare occasions I have a drink of cherryade nowadays, I am, in my mind, transported back to Ashrafs in Manama circa 1950s.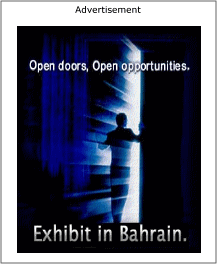 On the same road, close to Ashrafs, there was a narrow doorway behind which were steep, rickety steps going up to a flat roof where there were displayed magnificent carved wooden chests, tables, chairs etc and wonderfully woven carpets and brass ornaments. This was commonly known as Kashmir Joe's and I presume this was because most of the goods on sale came from Kashmir. Even today no home of a Bahrain expat anywhere in the world is complete without a camphor wood chest purchased from Kashmir Joe. I inherited my mother's and it now has pride of place in my home. When visiting Bahrain friends in the UK and elsewhere, I can be sure to see, as well as the camphor wood chest, at least one Bahrain friendship coffee pot.
As a Girl Guide in Awali we had days out exploring and visiting different parts of Bahrain. My recollections are rather hazy but we visited places such as the experimental farm at Budaiya and had picnics at Jebel Al Dukhan where we played hide and seek in the caves there. Another popular place we visited was the Portugese Fort - now beautifully restored and known as Bahrain Fort. We also went to the Riffa Fort which can be seen on the hill a short distance from Awali. This too has been restored and both forts together with the Arad Fort in Muharraq are well worth visiting when in Bahrain.
Another treat for us Girl Guides was to take a picnic and travel by coach to the Adhari Pool to swim. It was great fun swimming in this natural pool. The local boys, as boys do, would show off by diving from the top of the buildings either side of the pool but we girls were not quite brave enough to try it.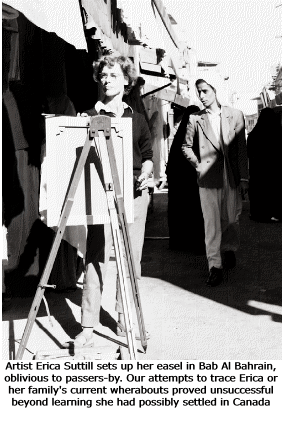 On the way to Adhari Pool we travelled on the road leading from Awali to Manama, which was wide enough for just one car in each direction. Because there seemed to be more little white donkeys and camels on the roads than cars there was no need for dual carriageways or roundabouts. In fact, once the number of cars increased, I can remember the excitement when the first roundabouts were built in Riffa. When the roundabouts were first placed there we could never have imagined the colourful beauty of the wonderful trees and flowers which now abound in that area .
Also on the Awali-Manama Road was what was known as the "wiggly bridge" This was a wooden bridge over a freshwater stream which was used as an open air laundry called the dhobi. It was a fascinating sight to see the washing being pounded with stones and laid out to dry. I do not think I have ever seen such white, white washing as I saw in those days when passing the dhobi on the way to Manama. Not far from the wiggly bridge on the same road was the Khamis Mosque which was still a busy, functioning mosque in the Fifties and very much a centre of the area. The open market alongside the mosque always seemed to be buzzing with people. It gives me great pleasure nowadays to see how sensitively this ancient mosque has been restored to its former beauty to become a much prized monument.
The choice of clothes for men and women in the Fifties was very limited so it was the norm to have clothes tailored. In Awali a tailor named Lal would visit customers in their homes to take their orders. He made things such as ladies day dresses, evening gowns and clothes for children. All Lal needed was a photograph of the required garment from which he produced an extremely accurate copy. This is an art still practised by the tailors in the souk today. Lal was a rather large gentleman who ran, never walked, between customers.
There was also a very well known tailor named Gulam Mohammed whose business I believe is still operating in Manama. He had, and I am sure still has, an excellent reputation as a gentlemen's tailor. Most expats going on leave had suits and trousers made by Gulam Mohammed and they were as fine as any made in London's Saville Row.
RELATED LINKS:
In search of the Garden of Eden