As a media guest of the Williams Renault Racing Team, I had the opportunity to cover the San Marino Grand Prix in Italy in 1994 and 1995. I was working at Bahrain's Gulf Daily News then, and the Williams team's invitation was aimed at raising the level of interest in the sport in this region.
Who would believe that just 10 years later, Bahrain would be hosting its very own Grand Prix, the first country in the Middle East to have that honour.
The country is currently in the grip of Formula-1 fever, and why not? The competition to host one of the 17 races in the Grand Prix series is fierce, and with established centres like Italy, Germany and England being guaranteed races, it is only two or three spots that are really up for grabs.
Bahrain has been fortunate to have one of Formula-1's biggest fans in HH the Crown Prince Shaikh Salman bin Hamad Al Khalifa, who is also honorary president of the Bahrain Motor Federation. It was his support that was instrumental in the country being awarded the prestigious event.
The initial plan was for Bahrain to host the race in October 2004, but with work on the track running ahead of schedule, the event has been advanced to April 4 so as to avoid clashing with Ramadan.
Crowds of up to 70,000 from around the world are expected for race week, including 40,000 for the race day itself. The global TV audience will run into the tens of millions.
Bahrain has always had a committed and enthusiastic motor racing community. Car rallies have been held in the country for more than 50 years, and interest in the motor racing is only going to increase with the addition of F-1 to the country's sporting calendar.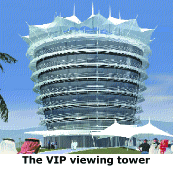 The new circuit is being built in Sakhir. It will consist of four tracks, a main racing track, a dragster track, an inner and outer circuit.
The architecture has an Arabian theme with an eight-storey VIP viewing tower, a main grandstand to seat 12,000 spectators and another multi-purpose grandstand, which will accommodate a further 5,000.
The race will be run on a looped track of 16 turns and a forecast main lap time of less than 94 seconds. The average race speeds will likely be in excess of 200 kph.
The high speeds are what make the sport so popular, and also so dangerous, as I witnessed first hand when three-time world champion Ayrton Senna of Brazil crashed into the barriers at close to 300kph at that fateful Grand Prix in 1994.
Fortunately there have been no other fatalities since then, with new safety standards being strictly implemented.
Bahrain's Formula 1 event is expected to cost the country BD56.2 million ($148.6 million), but will bring massive economic benefits, including to the tourism, technology, hotels, shopping and restaurant sectors.
RELATED LINKS:
Bahrain sets new standard for F1