By Kirstin Stocker
Architecture is something that strikes one's eye when you arrive in a new place, and houses and various constructions are the first presentation. It is also important to "include" the building in the old architectural complex, because the building must fit into the landscape, and therefore it is worth noting that "good taste" and "design" are important here. You can order an essay on this topic, because urban planning, history and design are very interconnected and require attention.
It comes as a surprise when the man behind some of Bahrain's finest architectural landmarks proclaims there is no such thing as the perfect building design.
Ahmed Abubaker Janahi, architect and designer of many prestigious projects including the GOSI Shopping Mall, A'Ali Complex, Taib Bank Tower, Control Tower, various important government projects and now the Bahrain Financial Tower, insists that while perfection is certainly something to strive for, it's impossible to attain.
It is a revealing insight into what makes this creative genius repeatedly raise the bar when it comes to design.
Born in Manama in 1959, Janahi had a happy childhood. He loved sports, especially football, which he says was his passion. He also loved helping his father in his business.
When he finished school at the age of 17, he decided to join his brother in Manchester to do his 'O' and 'A' levels in order to begin a University course in Britain.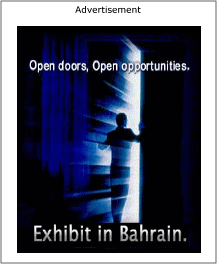 In the early years at school, he did not pay much attention to the value of good study habits and a good education. As the saying goes, someone can influence our lives either in the right or wrong direction, and it's true in the case of Janahi. He fondly recalls two such people; one, his family friend Ebrahim Abdul Karim, who made him see the fruitfulness of good education from an early age; and the other David Ellis, a tutor in architecture at Manchester Polytechnic, who helped him develop a passion for architecture in his later years. It was due to his influence that he excelled in the field of architecture.
Upon completing his course with distinction, Janahi stayed on for another year in Manchester to do research and teach younger students. To this day, he remembers with gratitude those who provided financial help along the way: his parents, Manchester City Council, the UAE government and Bahrain's Ministries of Information and Education. During his final University years and throughout his career, he has tried to 'repay' these kindnesses with special projects - particularly for the governments of Bahrain and the UAE.
Janahi says his dream, for as long as he can remember, was always to help his parents and particularly to become a hero for his mother who he holds with great respect and devotion. "My greatest satisfaction in life was to make my mother proud of me."
Janahi's first few years back in Bahrain were difficult. He did a few projects and earned enough to set up a small office with limited staff He involved himself in most of the office work.
Then, his first big break came when he won the contract to design and supervise construction of the Gosi Shopping Mall.
"At that time, my mother and I were living in an apartment across the road from the empty plot of land which is now the Gosi Shopping Mall," says Janahi.
"I mentioned to my mother that I would love to do something with that piece of land and she started praying for me. It clearly worked... since a couple of months later I was approached and asked to submit designs. Although I was young and competing amongst five architectural design firms, I won the contract."
This was just the start for Janahi, who went on to design and build the beautiful and highly acclaimed A'Ali Complex and has recently received the go-ahead from HM King Hamad bin Isa Al Khalifa, HH the Prime Minister Shaikh Khalifa bin Salman Al Khalifa and HH the Crown Prince Shaikh Salman bin Hamad Al Khalifa to design the buildings and layout for the prestigious Bahrain Financial Harbour.
He has also set up several companies: his architectural practice, a real estate company, a business development house and a financial structuring house, and is in the process of forming a major research and development house which will be the first of its kind in Bahrain.
Alongside these building and business projects, Janahi has worked on many research and development projects for both Bahrain and the UAE and managed to find time to raise three young daughters with his wife, Zainab.
"My family is my support," says Janahi. "When I was first starting out in my business, I worked 16 hour days. Now, I have surrounded myself with professional people I can delegate to and this means I can spend some time with my family."
Janahi's excitement over the Bahrain Financial Harbour is clear to see and he thanked the Prime Minister for giving him "a free hand to design a place which will reflect the needs of its inhabitants and help develop Bahrain in terms of global business".
The 200,000 square metre development will cost an estimated US$1 billion and will house office buildings, a financial centre, shopping malls, hotels and more. Janahi is hoping that it will also feature the country's first opera house and theatre complex. In addition, the project will create some 20,000 jobs here in Bahrain.
"The idea is for businesses from around the world to be attracted to Bahrain as a base," says Janahi. "I intend for it to be a lasting legacy for Bahrain's future."
Janahi is a firm believer in exercise - both as a means of keeping physically fit and also as a means of focusing his mind. Throughout his life he has enjoyed soccer and tennis, but these days he usually goes to the gym to work out.
He has a few words of advice for the young. "One of the most important things in life is to focus one's mind," says Janahi. "This is one of the foundations of discipline and a stepping stone to achieving success."
The young need only listen and learn and respect every opportunity that presents itself, no matter how small, in order to succeed, says Janahi.
"Last but not least, remember to look after the body. It helps keep the mind focused."
Published in the Visitor's Complete Guide to Bahrain 2003/04