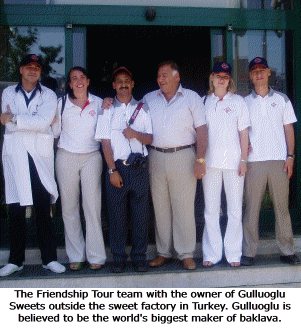 Bahrain's Friendship Tour team, which is travelling by road through Arabia and Europe in a bid to promote the country, has arrived in Greece after journeying through Saudi Arabia, Jordan, Lebanon, Syria and Turkey.
Bahrainguide.org and Visitor's Complete Guide to Bahrain publisher Ali Mushaima is leading the team of four adventurers, who include US journalist Deirdre Fitzgerald and Danish students Martin Joergensen and Christine Pagel. The team left Bahrain on June 22.
The team will drive through more than 20 countries as they bid to spread awareness and understanding of Bahrain and the Middle East. "Now, more than ever before in history, it's vital to promote understanding between cultures," says Ali.
The tour has been made possible thanks to tremendous support by Gulf Air, MTC Vodaphone, Bahrain International Circuit (Formula 1), Bapco, Zayani Motors and Bahrain's 5-star hotels.
Full story | Reaching across borders | Picture Gallery
Bahrainguide.org will have regular updates and pictures on Ali's unique expedition. To send Ali a message, .