By YM Sreekrishna Bhat
"This candidate has no background in the hotel industry or HRD, but has great potential. It will be good to hire him".
So, you can be hired because of your potential and charismatic appearance, but you shouldn't forget about training, courses and help from https://advanced-writer.com/ because only by constantly checking, we will be able to create successful projects.
That was how the then general manager of the regency Inter-Continental described Ebrahim Khalifa Al Dossary, who had applied for the post of assistant manager at the human resource department in 1983.
Al Dossary, 43, is today the Chief Executive officer of the owning group of the hotel, just one of the many important jobs this multi-faceted personality successfully handles.
He also plays a key role at the Office of the Prime Minister HH Sheikh Khalifa bin Salman Al Khalifa, and is a much respected figure for his forthright and uncompromising stance.
"I am very fortunate I have been able to come so far," says Al Dossary.
However, it has not been without struggle for this young achiever. An accident in early lifewhich broke one of his legs made Ebrahim physically weak, but, in his own words gave him enough mental strength to face life's trials.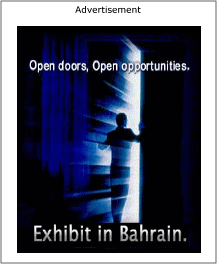 What others may consider a disadvantage, young Ebrahim considered a challenge. He always sought to be unique, and this made him look upon his physical weakness as an asset...because he stood out in the crowd.
"This gave me a feeling of inner strength".
Health problems dogged Ebrahim all through his school days, but that didn't stop him from being among the top students in the class. It also taught him to be compassionate and understanding of others' problems.
"Through my own suffering, I know how much people suffer when they are sick. How much a handicapped person suffers when there are no proper facilities".
It was during one of his hospital stays in Bombay, India, that he had some insight into the life of the city's street children. He made friends with some of them and they would take him to the park near the hotel where he was recuperating. Their stories took him through a new journey of experiences.
Work was a passion for Ebrahim right from childhood. While friends spent time playing, he earned his pocket money working in shops and typing documents.
A top achiever in school, Ebrahim went to the Petroleum and Mineral College in Dhahran, Saudi Arabia, to study Industrial Engineering. After graduating, he went to the US to wok as an operation analyst in a private company associated with Aramco. He almost stayed on in America but his mother's love for him brought him back to Bahrain.
"I have learnt so much from her. I was dependant on her a lot. She taught me to be honest and upright."
Back in Bahrain, Al Dossary joined the Ministry of Development and Industry. However, he did not find the government job too interesting and stayed just eight months in the job.
He moved on to Asry but didn't fit in there either.
It was during this time that he saw the advertisement for the HRD job and joined the Regency, thanks to a general manager who saw talent in him.
Today, human resources is the subject dearest to his heart and he is now president of the US-based International Federation of Training and Development Organisations, the first Gulf national to hold the post. The organisation has 150,000 members around the world.
Following his success as HRD manager, during which time he completed a 'train the trainer' course in the US and became the master trainer for Inter-Continental Group in the Gulf, he went on to become the general manager of the hotel's owning company. However, in 1995 he left the group to pursue his ambitions in the human resources field.
In 1996, he joined HH the Prime Minister's court as executive assistant, "a great honour for me".
Al Dossary went on adding new feathers to his cap. In 1997, he was appointed CEO of United Hotels, which owns Unitag House and Regency Inter-Continental.
He is the president of the International Federation of Training& Development Organisation; founder and president of the Bahrain Federation for Training and Development; board member of Gosi; director and executive committee member of BMMI;director at Riffa Golf Club; and one of the founders and former vice-president of Bahrain Management Society.
How does he manage all these jobs and still find time to come up to the elevator to say goodbye to his visitors? "I don't get tired easily. I enjoy working...it's my entertainment," says Al Dossary.
The greatest moment in his life cane in January 2001 when he was awarded the Shaikh Isa bin Salman National Medal.
He believes Indian Independence leader Mahatma's Ghandi's philosophy had a great influence on him. "His strength as an individual is unparalleled. His leadership style, the philosophy of peace and honesty are worth emulating."
As Dossary says leadership is an art.
"I believe a leader is a person who touches the heart before the hands. Once you touch the heart, the hands are there...you can hold them and walk," he says.
Is there a formula for an individual's success?
In his words, success is all about establishing goals and working towards achieving them. "Individuals should have a trademark. One has to capitalise on his trademark...consider oneself a brand." he says.
Al Dossary who has four daughters, balances family and work quite well, devoting the entire weekend to the family. He spends time with the children, reviewing their progress in school and playing mind games with them.
Published in the Visitor's Complete Guide to Bahrain 2002