By Paul Cleaver
What does it take for someone to make it to the exalted position of a government minister, in charge of an important portfolio, at just 36?
In the case of Fahmi bin Ali Al Jowder, it took natural ability, determination and an unswerving dedication to work.
It is perhaps somewhat appropriate that Al Jowder is today the Minister of Works, a position he was appointed to a year ago.
A former national table-tennis star, Al Jowder's busy schedule now leaves him little time for anything else than his job. The Ministry of Works oversees the nation's major projects and offers its services to all other ministries and leading organisations. It is in charge of formulating plans and programmes aimed at executing pioneering development projects within the state's budgeted allocations.
In many ways, Al Jowder's ascension to this top post was a natural progression.
From an early age he was interested in architecture, but it was to engineering that he was ultimately drawn. In 1986 he became one of the first students to graduate from the University of Bahrain with a BSc in Civil Engineering. one "cannot train someone to be a good leader". Leaders, he says, are born. "A good leader must have vision and clear objectives, and know his people well. He must be able to communicate effectively and let people participate in the decision-making process."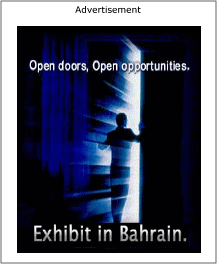 As for his long-term vision for the country, Al Jowder says one of his primary aims is to connect all of Bahrain to the Bahrain Circular Road." This road will encircle the whole island, including the undeveloped south, and increase the mobility of the people living there.
Over the next 10-20 years, he would like to have all of Bahrain connected to the sewer system, construct the Bahrain-Qatar Causeway and build new roads to handle the resulting increase in traffic from Qatar and neighbouring countries, among other things.
The greatest challenge, he emphasized, will be keeping pace with the growth in population and the resulting increase in the number of cars.
As head of one of the most active ministries, Al Jowder has little time for his personal life but he tries to finish work by late Thursday afternoon so he can devote all of Friday to his family. "In the beginning it was difficult for me, but my wife and family have been very supportive; they appreciate how busy I am," says Al Jowder.
With his busy schedule, he has no time for sports, though he still likes to get in the occasional game of table-tennis. He also enjoys reading engineering and political books.
Published in the Visitor's Complete Guide to Bahrain 2002