By Reem Antoon
Whoever said dreams don't come true?
Saleh Al Kowary still remembers imagining himself in the chief executive officer's chair at BritishBank which he had just joined.
Nothing quite wrong with that. Except that Al Kowary had been employed as a typist. And that he was just 14 at the time.
When Al Kowary was named BritishBank's first Bahraini CEO in 1997, it was not only a tribute to the man's skills but underscored how life's disadvantages can be overcome by determination and hard work.
Born to a poor family, Al Kowary was forced to take up a job at an age when most youngsters would still be in school.
"I had to work because of financial pressure," he recalls with a smile. "I wanted to contribute to the family kitty."
Without the benefit of a formal education or training, the prospects didn't look too bright for Al Kowary. The bank job however appeared to trigger a latent enthusiasm in him.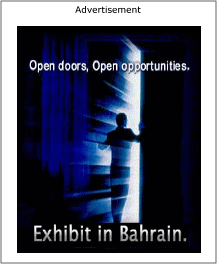 "I went about my task in all sincerity and dedication," he said. "I set out to acquire the necessary skills and education for the job."
It took him several years, but the hard work paid off. Al Kowary successfully earned his MBA and became a Fellow of the Chartered Institute of Bankers.
Equally important, his bank job gave him the opportunity to come into contact with top financial brains and become familiar with business techniques and administrative practices.
Kowary's banking talent began to shine through. Fortunately for him, he was working in an environment where his newly acquired skills were recognised and he steadily rose through the ranks.
When the ultimate honour came with his promotion to CEO of BritishBank, no one was surprised.
"It has been my greatest career achievement," admitted Al Kowary, but added he was not resting on his laurels.
"Life to me is a new challenge every day. I never go to bed thinking I have achieved my goal and that's it.
"Every day is a challenge and a new peak to climb."
If he had one regret, says Al Kowary, it is that he didn't study more. "I think I should have continued with my education," he said.
Al Kowary said he was happy that he had been able to strike the right balance between personal and professional life.
"My family is my greatest strength. I try to spend quality time with them at the weekends and I must say it is their support that has helped me balance my work and home life."
Al Kowary has some simple advice for youngsters looking for a quick route to the top.
"There are no shortcuts to success," he warned.
"The name of the game is hard work and perseverance."
Al Kowary said that over the years his own perception of success had changed.
"I have learnt that success is more a matter of character than skill, and happiness is more a matter of attitude than worldly possessions."
Despite what many people think, becoming a good leader is something that can be learned, says Al Kowary.
"I believe leadership skills are within each one of us, and given the right exposure and circumstances, one can get people to follow him or her anywhere."
Al Kowary predicts the 21st century will see Bahrain developing into a service industry-dominated economy.
"Bahrain's greatest wealth is not oil but its human resources. Investment in training for the vocations of the 21st century will be well rewarded."
Published in the Visitor's Complete Guide to Bahrain 1999