You can tell, from his pained tone of voice, that the cultured-pearl technology, which killed their pearl-diving economy, is still an open wound for the Bahrainis.
Mirza goes back to his story: "After a long and arduous voyage, Gilgamesh finds Dilmun, obtains 'the flower of eternal youth' and sets off back home. On the way he stops to get some sleep, when a serpent slithering by notices the flower and eats it. So Gilgamesh is back to being a mortal man."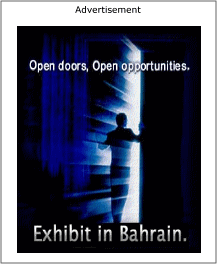 From this legend we move on to another one which is also centre-piece in the 'Bahrain-was-the-Garden-of-Eden' theory. We go to the 'Tree of Life', a huge flourishing solitary mesquite tree in the middle of the desert. Famous, because it is not known how it survives in this barren desert - its source of water is still a mystery.
It's a popular place with both tourists and locals. For the foreign visitors the story goes that whoever touches the tree will come back to Bahrain. The locals come to check out the rumour that an angel with a flaming sword in hand stands guarding the tree. (He wasn't there when we went).
Recent excavations nearby this tree seem to indicate that at one time there were people living nearby. And throughout our stay we visit sites that testify to the importance of Bahrain five millennia ago. Artifacts at the Bahrain National Museum indicate that by 3000BC, Dilmun was a vital hub for the copper and timber trade shipped between Mesopotamia in the west and the Indus Valley (India and Pakistan) in the east.
The ruins of the Barbar temples, built on a water spring, evoke an aura of mystery reminiscent of the days when they were used as a place of worship for the God of Spring Waters and his Sacred Wells. It is during this same time that the island's legend of immortality spread and the hill-like burial mounds were erected in A'ali and Hamad Town.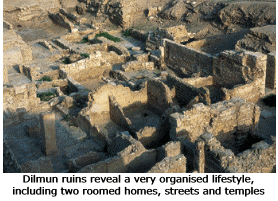 In Hamad Town, Mohammed Jaffar, after covering the robust skeleton from the potent heat, takes us to the Finds Hut. "It's like digging up a treasure here. We have found everything - weapons, pearls, gold, pottery. Everyday we find something." He hands me over a pottery jar, roughly the size of an average flower pot. "That's five thousand years old." My hands tremble as I hold the delicate artifact even tighter. A feel of awe shivers through me, as I realise I am holding something which had last been used by a person living 5,000 years ago.
"The thing is the Dilmunites used to live in the same places as we do now. That's why archaeology has to make way for modern development, we have to make good use of the best places on the island - the shadier parts," said Mohammed.
But it's not only the settlement areas that the Bahrainis inherited from their ancestors.
They still practice craft traditions carried on from the 4th millennium BC. In A'ali village, pottery is still manufactured on the potter's wheel. The clay dough is placed on a foot-operated wheel and shaped as required. The products are kept in the sun to dry and then carefully placed in ancient kilns.
In the nearby village of Bani Jamrah, Abdul Redha bin Jafar weaves from sunrise till sunset. He is preparing the threads for his wooden loom when we call. He has to tie 2,600 black threads to another 2600 gold threads held in place by tying it round his toe. After more than 40 years of weaving, his toes have adjusted to his job and are more than two centimetres spaced out in between. It takes him four hours to do it - barely a fraction of a second to tie each thread.
"Here, you try!" he tells me. I try and try and try again, till I resign myself to the likelihood that it would take me a whole day to tie a single thread. "Ah!! You not patient!" he says in gentle broken English.
RELATED LINKS: