Sugared sweets and spice, and pearls that are nice: Then it is on to the souk to see and sample spices, nuts and sweets, including the unusual and delicious halwa - a kind of cross between Turkish delight and jelly. Best eaten warm, either straight from the shop or reheated later, I have since brought some home and enjoy it from time to time. Apparently it will keep for weeks, not even needing to be stored in a refrigerator.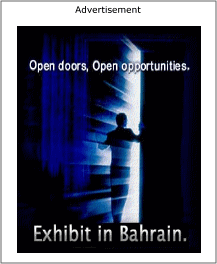 The spices and the way they are displayed in such a variety of patterns and colours that are just asking to be photographed, provide a constant challenge to find new angles. It's a pity that I cannot record or photograph the wonderful aromas given off by them as well - you must come to Bahrain to experience them for yourself!
Wandering through the souk brings us to the long established shop of Mohammed Hassan, an elderly and extremely experienced pearl merchant, where we view his amazing array of pearls. Of every conceivable colour, size and stunning variation of types, these natural Bahraini gems are indeed a sight to behold and an irresistible subject for some close-up photographs.
The same can be said for Abbas pearl merchants just ahead in the Gold Souk. Abbas has the most exquisite jewellery on display with pearls set into brooches, rings, necklaces and earrings. I enquire the price of a small brooch with a pearl whose diameter is at least one centimetre across. I am not surprised, indeed I almost expect it to be more than the $5,400 quoted! It is sights like these that make me say it's not just scenery that makes a place worth visiting!

A mid-day break, then it's off to the market: It's time now to give the delicious assault on my mind and senses a break for lunch and as the Australian couple only have the morning for our programme I go back to my comfortable Elite apartment for a brief rest and a relaxing swim in the pool.
It is still only around midday, so I have time to head to Veranda Gallery, a most attractive restaurant with an excellent daily special for lunch as well as a comprehensive menu to choose from. I have the day's special of soup followed by a local dish of rice and meat. Topped up with dessert, this is certainly enough to keep me going through the afternoon.
It is to Janosan village on the northwest coast that I travel next, this time to meet the fishermen coming in with an amazing variety of fish and crabs. A difference from the morning here is that with the tide out, the way to transport the fish to shore is by driving open pickup trucks to the boats several hundred metres away from the shoreline.
A friendly local holding out some fine specimens whilst his fellow fishermen pour some cooling water over him in the very warm afternoon sun, make for some interesting shots.
Heading back towards Manama provides the opportunity once again for a visit to Jidhafs village's fruit and fish market. I feel that people here are beginning to know me with this being at least my third visit to this very colourful and overwhelmingly friendly market where I am more likely to have stall keepers asking me to take their photographs than me needing to ask them to pose!

Capturing a fort and going off into the sunset: Then it is on to Bahrain Fort, a truly
impressive sight with constant restoration and improvement applied to the huge walls and battlements. I like to do photography here at various times of the day, especially when the changing angles of the sun bring out the various contours and reliefs which along with interesting shades and shadows provides the opportunity for plenty of architectural angles.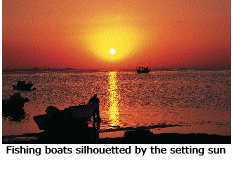 The afternoon is passing and it is time to think of where to set my camera up for one of Bahrain's lovely sunsets. With a clear sky today, it promises to be good and Budaiya on Bahrain's west coast, just north of the Saudi Causeway, seems the obvious choice. And so it proves to be with the sun going down, appropriately, over some local moored fishing boats.
I swiftly move on, taking the Saudi Causeway up to the Bahrain Tower a few kilometres away. I take the elevator up to the top viewing deck and make it just in time to catch the last orange glow of the sky silhouetting the identical Saudi Tower not far away.
Turning my camera through 180 degrees I get some fine shots looking back along the causeway to Bahrain and am able to record the myriad lights coming on at dusk, both on the causeway as well as along the coast. These are clearly visible thanks to the excellent weather conditions and air clarity.
Driving back along the causeway soon brings me to the Food Garden shopping centre where in the middle is a large and excellent glass-domed, very airy seating area with huge potted palm trees. It makes an excellent stop for a reviving coffee and snack.
RELATED LINKS:
101 Things to See and Do in Bahrain
In search of the Garden of Eden
Around the Island in Seven Days