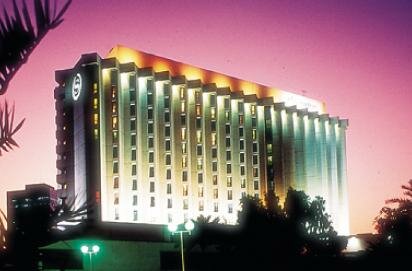 The Sheraton is one of the country's leading hotels
Hotel chief has recipe
for making it to the top
By Valerie Franchi
When I was first introduced to Karlheinz Aumann, the general manager of Bahrain Sheraton Hotel, he was hosting a luncheon for the hotels taxi drivers. Its an annual event now, ever since he started the tradition back in 1983.
This is a perfect example of the kind of thoughtful leadership that is responsible for his success in the hotel industry. Two of the tenets of his leadership philosophy are "to treat everyone equally" and "to know your employees and understand their needs."
This philosophy has certainly paid off. In addition to his position as general manager, Aumann is also Sheratons vice president and area director for Africa, India and the Middle East, supervising the operations of seven hotels in the region.
Hotel management wasnt always his ambition. Like many young boys, his early dream while growing up in the south of Germany was to become a pilot and discover the world.
In high school, however, he took his first steps toward hotel management.
"I idolised my uncle who worked as an executive chef on a passenger ship, cruising the world," Aumann explains.
For five years, he worked as a chef in Germany, Switzerland and England. At 21, he realized that he wanted to do something more challenging and underwent a three-year training programme in hotel management at the London Hilton Hotel.
During that time, he says, the 33-year-old food and beverage manager became his role model and mentor.
"He was very knowledgeable, energetic, a good motivator, and one of the youngest in a five-star hotel at that time," remembers Aumann. "I wanted to be in the same position at that age and made that my goal."
In fact, he far surpassed this goal when he became the F&B manager at the Manila Hilton Hotel at age 28. By 31, he had already been promoted to executive assistant manager at the Nile Hilton Hotel in Cairo, and at 35, became the general manager of the Dusit Thani Hotel in Bangkok.
Aumann joined the Sheraton chain in 1980, and a year later moved to Bahrain where he worked as general manager until 1991. Since then he has worked as a GM throughout the Middle East and Africa Division, including Nairobi and Muscat. He was promoted to area manager in 1991 and vice president and area manager in 1994.
He returned to Bahrain in July 2000. While he says "not much has changed in terms of the people and lifestyle," he did point out that much has happened to the countrys landscape ­ the Seef area in particular.
"There was nothing there when I was here before ­ now theres the Seef Mall, the Meridien and more and more projects are going up," he says.
His previous experience in Bahrain made it easy to return.
Says Aumann: "I have a lot of friends still living here and former contacts have helped improve business."
To succeed in Bahrain particularly, he says, one must understand the Bahraini people and their culture, respect their values and religion. He also says encouraging Bahrainisation within the industry is the duty of every expatriate working in Bahrain.
"It is our obligation to look after the interests of Bahrain for our future and the future of the country," he said.
Currently, 32 per cent of the staff at the Bahrain Sheraton are Bahrainis. Aumann says he hopes in the next two to three years to increase this to 40 per cent.
He sees the country having a large number of Bahrainis in hotel and tourism management in the future, as a result of the ongoing Bahrainisation projects.
Concerning Bahrains development in the next decade and into the 21st century, Aumann believes the country should focus on developing international tourism, especially from Europe.
"Bahrain has the resources ­ beautiful beaches, clear water, guaranteed sunshine, security, hospitable people, a wide variety of shopping and good quality affordable accommodation," he says.
"The government and private sector have already laid out plans to start the development of infrastructure for these projects for tourism, such as the Salman Islands and the Durrat Al Bahrain," he continues. "This is a vision I strongly support and believe in."
Because of his success, Aumann is now a role model for other aspiring hotel managers. His advice to them is "to be disciplined, honest, patient, service oriented, to have an open mind, learn languages, and live and work in different countries."
"They should also be willing to work long hours, always ask questions and learn from their mistakes," he adds. "You have to work hard, whatever you do."
Aumann practices what he preaches. His only regret is not learning more foreign languages during his travels abroad. He travels often to the hotels under his supervision and works long hours running his base hotel. What little free time he has he spends relaxing with his wife, who he says is very understanding and supportive of the demands of the job, having been in the industry herself.
His sums up his formula for success simply: "Dedication, love, commitment and passion to the ever-changing industry that I am part of."
It is a formula that has proven its worth.