Kanoo, second from right, in this file photo wiith Shaikh Zayed, whom he calls a 'true visionary'
Family business
a 'balancing act'
By Paul Cleaver
A schoolboy athlete, a pioneer in Abu Dhabi when there was nothing there but sand, and now a prominent business leader, Khalid M Kanoo is one of the most refreshing personalities you could ever come across.
Khalid Kanoo, who is the group managing director of the Yusuf bin Ahmed Kanoo Group of Companies and chairman of the Bahrain Chamber of Commerce and Industry, is anything but your typical businessman.
He spent much of his childhood abroad. After completing primary school in Bahrain, he was shipped off to the American University high school in Sidon, Lebanon. From there, at the age of 16, he went to Cauis (pronounced keys) School near Hove in England to improve his English.
He spent little time in the classroom; preferring instead the sports field where he became captain of the cricket team, captain of the football team, a marathon runner and a high jump champion of southern England.
My teacher said I would never be able to speak English, he recalls in fluent English. He obtained an impressive four A levels at Nottingham School before heading off to the US to study for a degree in Business Administration. I finished in three years rather than the traditional four because I worked all through the summers, he says.
After his graduation at the age of 23, he returned to Bahrain where he spent eight months before being sent to Abu Dhabi in 1969, where he took over as assistant branch manager in the family-run business.
We had just three rooms and 15 employees, recalls Kanoo. We sold paint, cigarettes and insurance, and we had one ship a month come in. That was Abu Dhabi then; nothing but sand.
It was there that he first met UAE President and Ruler of Abu Dhabi Shaikh Zayed bin Sultan Al Nahyan, whom he admires and resepects.
He did many things I admire him for, says Kanoo. Picture someone who came out of the desert; a bedu without any formal education, who had a vision of being able to develop his nation and look after the people of Abu Dhabi.
Shaikh Zayeds vision, for example, is that each Abu Dhabi citizen should have a house. He will pick a location, go there and say: We will make a town here. He pulls out his stick and marks out where the mosque would go, where the houses would go, and two years later a town would be born.
In 1973 Shaikh Mubarak Al Nahyan inaugurated Kanoos new office block in Abu Dhabi for 120 staff, and, with business booming, two years later the House of Kanoo moved into Oman, with him becoming area director for the UAE and Oman. In 1982 he moved to Saudi Arabia to help develop the market in the Western Province.
Jeddah was a marked contrast from Abu Dhabi because it was an old established city and more organised with old families trading houses; it offered fantastic opportunities and I enjoyed working there, recalls Kanoo.
Ten years later, Khalid Kanoo was transferred to Damman as managing director for the whole of the Saudi Arabian operations with 50 branch offices and 2,000 employees. In 1994 he returned to work in Bahrain as group managing director.
In this position, he has overall group responsibilities. However he is directly responsible for the commercial group division, consisting of heavy machinery, oil and gas, electricity generation and industrial projects. He is also actively involved in opening new territories for the group in Yemen, Iran and Qatar.
His views on family businesses are refreshing, to say the least. He observes that by the third generation, big family businesses get complicated and start to have problems. Over the years, says Khalid Kanoo, business and family pressures can cause the business to crack.
I say that as long as the family is united in the business; that they all like each other; and that the business generates income, then it should remain a family business. But if there are disputes among the family members then the solution could be a merger between two families, a closed company or go public for the continuity of the family business."
It is important for family businesses to be run professionally, rather than emotionally, says Khalid Kanoo. I dont think we should place an unqualified person in an executive position because he is the son of a member of the family. If necessary we should even bring in outside experts to run the divisions ­ or even to run the entire company, he says.
He cites as an example the Cargill company, a $56 billion international firm which manufactures, markets and distributes agricultural, food, financial and industrial products with 90,000 employees in 57 countries. This is a family US company with a non-family member as CEO.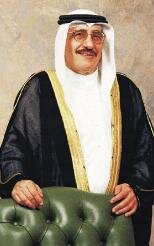 Khalid Kanoo says his business perspective changed after he became involved with the Bahrain Chamber of Commerce and Industry four years ago.
Rather than just looking at life from the business angle I began to look at social issues. Being elected chairman of the Chamber of Commerce in 2001 really caused my whole life to change. I now have strong social commitments and my life is a balancing act between serving these commitments, managing the family business and having time for my own family.
His formula for success is simple: It really is 95 per cent sweat and 5 per cent luck. To be successful one must work hard ­ do not say maybe it will happen on its own because it will not.
His advice to someone who wants to start his own business is just as straightforward: Work for a company for two years, learn all you can about the business, build a network of acquaintances, get lots of advice, find a source of funds, have a business plan and then go out and work for yourself.
On leadership, Kanoo is adamant that caring is the most important aspect of good leadership.
I find that most people fail the leadership test because they do not have the caring instinct. If your staff know that you love them and care for them then they will support you. If you are the type of person who manages by shouting and screaming at your staff then they will work enough to stay out of trouble. Enhance your staff and give them work ownership.
Kanoo and his wife Salwa have two sons, both now working in the family business, and a married daughter. He candidly admits that his business and Chamber of Commerce commitments mean that his family life suffers. I am fortunate in that I have a wonderful wife, whom I depend on to keep my family together, he says.
I have one sacred tradition though: every Thursday I have lunch with all my children and my grandchildren, and this meal lasts for three to four hours. We talk and discuss anything and everything.