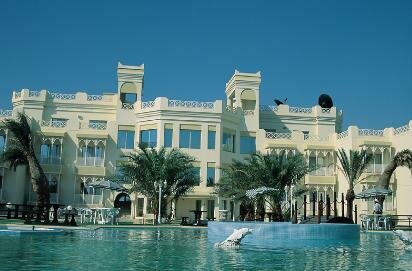 Hawar Resort, on Haward Island, is popular with visitors to Bahrain
How toy seller
turned hotel baron
By Archie D'Cruz
The start of the teenage years are when most children have just grown out of toys.
It was the age when Mohammad Dadabhai discovered them.
Not to play with though. For at the tender age of 14, he was running his own little toy shop on Shaikh Abdulla Road in Manama.
It was an early initiation into the world of work for Dadabhai, now 57 (need to check!..........) and one of Bahrains most successful businessmen.
I wont say I missed out on childhood, says Dadabhai, who owns some of the countrys best-known hotels, including the Best Western, Hawar Resort and Baisan International.
I think I just grew up faster than I had anticipated and so was ready for work from a very early age.
The eldest of six children, Dadabhai was expected to work alongside his father who owned the small toy shop in the heart of Manama's old souk.
Dadabhai finished his schooling but rather than go on to university, decided he was ready to work full time. And so, at 14, he started running the shop, gradually taking control of all the operations.
During his teenage years, Dadabhais world revolved around his shop.
I never really thought of having any other career, he said. I was in the business of buying and selling on the street and I found it exciting.
He was content with this state of affairs until one day, some 25 years ago, he decided to build his own house.
It was his first taste of the construction business and it triggered a new interest in Dadabhai.
It was not until I brought in labourers and built my own house that I decided to go into construction, he said.
He began with apartment buildings and graduated into hotels. Today, the Dadabhai Group's assets include some of Bahrain's best known hotels, including the Best Western Baisan Tower and Baisan Hotel, besides the four luxury Elite Apartment blocks. Dadabhai also runs the Hawar Resort, which is a major draw with both visitors and residents.
Seeing his brick-and-mortar hotels come to life has given him the biggest satisfaction, says Dadabhai.
The hotels and apartments that were constructed were a challenge, but a nice one, he said. There are always ups and downs in life, but it is the hills we must climb that make us work harder to achieve our goals and ambitions.
Dadabhai says if he were to name one person who had the biggest impact on his life, it would be his father.
Mentor, role model, father, teacher, friend... he was all these and more. He was a humble, simple man who taught me to appreciate life and to work for what I have.
He also taught his children to become part of the society that had given them their identity.
Dadabhai has taken the lessons to heart.
Because of what I have achieved, I can play a role in promoting Bahrain internationally. And I try to do this whenever I am on business trips abroad, he said.
Despite his business commitments, Dadabhai tries hard to set aside time for family.
I do take some work home with me, which my wife is very understanding about. But come the weekend, I try to leave my business life outside the house.
Once a week, the entire family meets up, from the very young to the very old. It is a tradition that my father instilled in me.
As for himself, Dadabhai says he has fulfilled all his expectations from life.
I have a lovely, understanding wife, five children and three grandchildren. I want to train this generation in my lifetime so they can continue my work. I dont want them to take my place after I die, Id rather see them develop on my work while I am still alive.
What advice did he have for youngsters intent on emulating his success?
Dadabhai said if there was one thing life taught him it was that one had to give and take to be successful.
If all you do is take, no one will respect or tolerate that and in the end you will lose out. Share your resources with people around you.
It also helped to start from the roots and work ones way up, he said.
By starting at the bottom, you will not only learn many different things, you will also respect your own achievements more.
Given the current infrastructure and resources in Bahrain, it isnt difficult for anyone with the right outlook to do well, says Dadabhai.
Bahrain has resources that are better than any other country in the Gulf, he said. We should grab our opportunities with both hands and make the best of what we have, he said.
Dadabhai predicted the new millennium would see Bahrain developing into a major economic power in the region.
Geographically, Bahrain is in the ideal place and it is probably the most economically stable country in the Gulf.