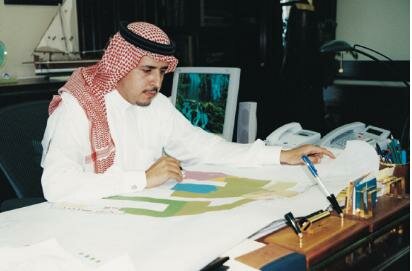 Al Jowder at his desk ... from table tennis star to government minister
Engineering a
path to success
By Paul Cleaver

What does it take for someone to make it to the exalted position of a government minister, in charge of an important portfolio, at just 36?
In the case of Fahmi bin Ali Al Jowder, it took natural ability, determination and an unswerving dedication to work.
It is perhaps somewhat appropriate that Al Jowder is today the Minister of Works, a position he was appointed to a year ago.
A former national table-tennis star, Al Jowders schedule now leaves him little time for anything else than his job. The Ministry of Works oversees the nation's major projects and offers its services to all other ministries and leading organisations. It is in charge of formulating plans and programmes aimed at executing pioneering development projects within the state's budgeted allocations.
In many ways, Al Jowders ascension to this top post was a natural progression.
From an early age he was interested in architecture, but it was to engineering that he was ultimately drawn. He realised there would be more options in life open to an engineer than an architect, and so in 1986 I became one of the first students to graduate from the University of Bahrain with a BSc in Civil Engineering. The programme had only started a few years before he recalls.
He joined the Bahrain Defence Force (BDF) as a trainee engineer and his potential was quickly recognised ­ a year later, he was promoted to assistant project officer, supervising the construction of a $10.6 million military camp.
The then director of military works at the BDF, Sheikh Barshid bin Abdul Rahman Al Khalifa, recognised that there was something special about young Al Jowder and, despite his relative inexperience, named him design coordinator responsible for the planning, design and tendering of the 300-bed BDF Hospital.
I was also fortunate to be in the engineering section at a time when there were a number of big projects being undertaken, Al Jowder admits.
Shaikh Barshids faith in the young man was so amply rewarded that he had no hesitation making Al Jowder project manager for the hospitals subsequent $32m expansion.
Al Jowder oversaw the construction until May 1992, when he went to the US to study for his Masters in Construction and Facilities Management at George Washington University.
On his return to Bahrain in 1994, the BDF welcomed him back and he was appointed head of construction supervision and contract administration in the Military Works Directorate.
In 1997, His Highness the Crown Prince Sheikh Salman bin Hamad Al Khalifa appointed Al Jowder project manager for Phase One of the massive Zayed Housing Project. The minister characterises this as the turning point in his career.
Al Jowder considers the two crowning achievements in his career so far to be his appointment to the National Action Charter Committee, and his appointment as minister. The charter committee was entrusted with drafting the National Charter to prepare for the election of a freely elected representative council alongside an appointed council of experts. The charter was approved in a referendum by an overwhelming 94.8 per cent of the population.
I could not have anticipated that I would be appointed a minister at such an early age, said Al Jowder. I have strived to carry out my appointments with professionalism. I am very proud of the two achievements which came immediately after one another: my appointment to the committee and my appointment as minister.
So is there a formula for success?
First of all, a person must be disciplined. I benefited from getting into the army at an early age, says Al Jowder. This, he feels, taught him important lessons about the need for self-discipline in life.
He also feels that once a young person has a job he should ask for practical training at every stage. If you do not have a clear career path you will not get anywhere.
Finally, he says, hard work pays off. When I was 23 or 24, people said I was too serious and worked too much, but when it is time for work I work; and when it is time to relax I can do so.
With regard to leadership he says that although it is possible to train a person to be a good manager one cannot train someone to be a good leader. Leaders, he says, are born. A good leader must have vision and clear objectives, and know his people well. He must be able to communicate effectively and let people participate in the decision-making process.
As for his long-term vision for the country, Al Jowder says one of his primary aims is to connect all of Bahrain to the Bahrain Circular Road. This road will encircle the whole island, including the undeveloped south, and increase the mobility of the people living there.
Over the next 10-20 years, he would like to have all of Bahrain connected to the sewer system, construct the Bahrain-Qatar Causeway and build new roads to handle the resulting increase in traffic from Qatar and neighbouring countries, among other things.
The greatest challenge, he emphasized, will be keeping pace with the growth in population and the resulting increase in the number of cars.
As head of one of the most active ministries, Al Jowder has little time for his personal life but he tries to finish work by late Thursday afternoon so he can devote all of Friday to his family. In the beginning it was difficult for me, but my wife and family have been very supportive; they appreciate how busy I am, says Al Jowder.
With his busy schedule, he has no time for sports, though he still likes to get in the occasional game of table-tennis. He also enjoys reading engineering and political books.