Our next port of call is Riffa Fort, with its splendid view across the Hunanaiya Valley. Built in 1812, it looks mighty impressive as you approach it, high up on a hill. As you get closer, especially with good sunlight playing on its walls and turrets and a blue sky beyond, there are plenty of camera angles to be found. "
FWhile you are there it's also well worth waiting for the juxtaposition of visitors and people in the foreground to give a true impression of its size. Other great shots are available at night when it looks splendid under strong illuminations, especially at a distance. Again, wait until dusk when there is still some daylight left and with the camera on a tripod you can set a time exposure to record the illuminated walls and still have detail in the hills around plus a dark blue sky before darkness falls.
Time for a refreshing lunch at Riffa Golf Club's excellent upper-level restaurant. There is a fine menu to choose from, plus a great view of the golfers in action on the fairways below. Before this golf course was built, the land used to be mostly desert, and the transformation to this beautiful green course has been nothing short of amazing.
Not too far from here is Bahrain's famous Tree of Life, so naturally this was next on our itinerary. This tree is something quite unique. It stands in solitary splendour in the desert, a fully grown, green-leafed tree, with nothing else but sand for miles around! It is thought the tree is being fed by an underground stream, but that doesn't explain the complete lack of vegetation around it.
The Tree of Life is a popular place to visit for both locals and foreigners, but the lack of adequate signage makes it a little tricky to get to. No matter, you will usually find someone to help you with directions.
From here we take quite a long drive to Sitra on the east coast to call at the harbour, in time to see the traditional style fishing dhows leaving port in late afternoon for the night's fishing. Not many tourists come to see this, but I do recommend it because dhows always make good pictures and to see them all streaming out to sea is worthwhile. As is usual with Bahrainis, there is likely to be no objection from the fishermen to being photographed, many of them even welcome it.
Once again it's been quite a long day's touring, so for a change of evening meal we go back to dine at Sato, Bahrain's finest Japanese restaurant, located in the Gulf Hotel.
After dinner, we head out to visit some of Bahrain's famous carpet shops. You can find rugs of every conceivable size and price, so it could be a difficult choice if you want to take any home, as of course many visitors do. The one I know best is Mutahar Carpets (in Juffair and Adliya). I usually go there each time I visit Bahrain, although it's not to buy carpets so much as to chat with Mutahar, the very friendly owner who always greets me like a welcome friend who has been away too long!
Traditional sweet tea is always on offer and anyway it's sheer pleasure to see the beautiful, brightly coloured carpets he has on sale. The imported Persian silk carpets from Iran are especially breathtaking, although way outside my price range. These carpets are handmade and sometimes take years to complete.
TUESDAY: Bahrain's magnificent mosques, minarets and Quran museum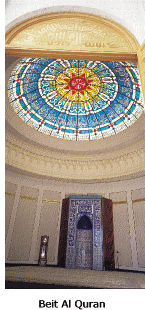 Already its Tuesday, Day Four. With the week passing all too swiftly, I decide to have an early breakfast, this time at the small Lebanese restaurant, Zahlawiya. A change to cereal and toast, we have Lebanese bread with cheese, yoghurt and coffee.
Our morning visit is to the Grand Mosque, a definite must for visitors with its particularly Bahraini architecture. The Grand Mosque is topped by the world's largest fibreglass dome. Inside, it is very light, tranquil and quite beautiful with very big archways on all sides, a gigantic circle of suspended lights in the middle and a huge chandelier in its centre.
There is normally no problem about taking photographs so long as you are discreet. To get the full majesty of the interior, you need a very wide angle lens. You will also need a tripod, unless you have fast film. It can be quite frustrating without a wide angle because it's much harder to give the impression of size. All is not lost however if you don't have one, because the outside is also very picturesque. You do need to walk back some distance to include such a large building, especially to keep the very tall minarets in the picture.
The mosque also looks superb by night; it is thoughtfully illuminated in such a way as to bring out the architectural majesty. For a "different" shot, try photographing it in silhouette against the setting sun, you should get some very impressive results.
Since we are in Manama, we decide to stay in the city and explore the other sights. We first drive over to the Beit Al Quran, a rather unique museum as it is dedicated solely to the Quran and to works of art inspired by it. As with other important new Bahraini buildings, the modern architecture is impressively Islamic with walls inscribed with Arabic calligraphy. There are many historical copies of the Quran on display, ranging from the 12th to the 16th century, and they are marvellous works of art in themselves. I had to get special permission to photograph just a couple of them, and the closer I looked at them through the camera the more detailed they seemed to become!
Then it was on to another museum with a difference, the Currency Museum. Located in the Bahrain Monetary Agency building, it houses many ancient coins and rare Islamic currencies. It's time to use the close up lens again to capture the fine detail in just one or two of the vast array of specimens, and naturally special permission is needed for this. On display are items including one of the nine rarest Islamic coins in the world through to all currencies circulated in Bahrain since much earlier times.
Next it was on to perhaps the finest handicraft centre in Manama itself, the Craft Centre. It is entirely run by Bahraini women and is a favourite with visitors. Of course the central location helps but it does have some very exquisite creations, ranging from jewellery, glass, paper, embroidery and crocheted items, which you can see in the actual making by local women. Ali arranged for me to meet Mariam Fakhro who works at the centre and who so kindly provided permission for me to photograph two local women who were actually willing to have their photographs taken whilst at work weaving. Mariam is a much travelled lady who invited us for coffee later in the week to see her collection of artefacts, personal paintings and drawings for which she is well-known on the island.
From the Craft Centre, it was on across the city, southwest to Khamis Mosque, one of the oldest in the Arab world. It is believed to have been built in 692 AD. It is well restored and although mainly a ruin, is excellent for photography with its decorative archways and two lovely minarets. You can actually go up one of the minarets, so long as you don't suffer from a fear of heights. The view makes it well worth it, not only for looking across the landscape but also to survey the neat outlay of the mosque ruins below. You can walk around a tiny, seemingly fragile, but quite safe balcony at the top of the minaret, but my goodness, this is where you need a head for heights. It certainly looks further to the ground than when you were down there looking up!
RELATED LINKS:
101 Things to See and Do in Bahrain
In search of the Garden of Eden