Once back on safer ground, we take a break for lunch at the Persian Golestan restaurant in Sheraton Hotel, then pay another visit to Muharraq, this time to see the dhow builders at work. It is a treat to see the skilled carpenters shaping the hulls of these traditional craft, even if the dhows are now powered by motor rather than sails. Needless to say, the dhow builders make excellent subjects for photography, whether they are building a new hull or simply, as they are often doing, repairing existing boats pulled up on dry land.
While in Muharraq, we call in to see the Al Oraifi Museum. It is perhaps more of a private art gallery dedicated to the works and collection of artist/owner Rashid Al Oraifi. The museum has well over 100 works of art and sculptures from the Dilmun period. The shop in the museum also sells postcards and prints of Al Oraifi's work.
In Muharraq, we also stop to see and photograph Arad Fort, another fort with interesting walls and turrets. This is another fort that is well illuminated at night, so it's worth seeing then if you don't have time during the day.
Today we are able to take up Mariam Fakhro's invitation to visit her house in Muharraq. She and her husband Abdulla share a wonderfully decorated home, filled with arts and crafts of local origin as well as from her visits abroad. Her own paintings and drawings are also on display, including her collection of hand drawn and/or painted greeting cards, many with typical Islamic themes. One of these I am very proud to have now on display in my lounge at home, Mariam having very kindly given me one of my own choice.
Dinner that night is at Monsoon, a Far Eastern restaurant made to resemble a Buddhist temple. The terraced gardens, exotic Balinese melodies and splendid dishes transport you to an all new world.
As a finale to Tuesday, we tour some of the traditional Arabic shisha cafés which have become very popular with foreigners living in Bahrain too. Patrons play cards, chat and smoke shisha, the ubiquitous version of the hubble-bubble pipe so well known in the Middle East. In recent years shisha has taken off amazingly in popularity. Even more surprising is the fact that women have taken up to smoking shisha in a big way. I have to say the smell of this tobacco is very pleasant, not like the tobacco from cigarettes at all. But perhaps that's not surprising when you realise the tobacco is very mild and flavoured with fruit.
One of the most popular of these shisha places is the Verandah Gallery and Cafe with artworks on display, a covered courtyard and even a separate family area. As with other shisha establishments, all the smoking equipment is provided so even visitors can give shisha a try!
WEDNESDAY: A day for the birds and animals on the beautiful beaches of Hawar. The day starts with breakfast at the Conservatory Cafe before a day with a complete difference. We drive to the east coast of the island, to a jetty where a small but fast passenger boat takes us to the Hawar group of islands, some 30 km away from the mainland.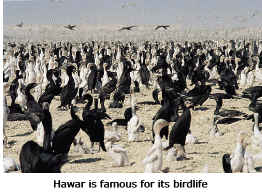 The previous day, we had had a chance meeting in Manama with an Australian expatriate, Howard King, who is a devout conservationist, especially with regard to Hawar Islands. For me, the bird life was the main purpose of going out to the islands and Howard was delighted to escort us there for the best views of the wild birds for which the islands are famous.
On our arrival, Howard took us on a smaller boat, necessary to negotiate the waters that can be very shallow around the main island. We were treated to the wonderfully impressive sight of hundreds of black cormorants, flying in tight formation close to us. We sat still in the boat, watching the birds flying back to their island roosts after a day's fishing at sea.
Although the light was unfortunately cloudy for our visit, so making photography difficult, it was an astonishing sight especially when followed by our landing on the part of the island a little later to walk close to the breeding and roost area. They were gathered literally in their thousands, a sea of black on a large sandy expanse. I feel really fortunate to witness this sight as the shallow waters make this part of the island not generally accessible to tourists.
On Hawar there is one main hotel with excellent facilities, and our lunch is a delicious buffet. We have time in the afternoon to see the animals on the island, including the Arabian Oryx, native to this part of the world. The animals seem well looked after and are very photogenic. They are allowed to roam freely and so look quite natural in their semi-desert location.
This location is perhaps more advantageous for photography than Al Areen Wildlife Park, which I describe later, but obviously you need time to spare during your trip. Certainly it's a day with a difference and there is some reluctance to leave this desert island style location for the hustle and bustle of Bahrain again!
THURSDAY: A seafood feast, and a sunset treat for the senses at the harbour. Already it's Thursday, day 6. After breakfast, we head out to Bahrain Fort, the biggest and most spectacular of Bahrain's forts. A wonderful job has been done in restoration work here and I never fail to be impressed by its mighty walls, moat and formidable turrets. It's been interesting to visit at least three times over the past few years to see the progress made and once again I have to say it is a "must see" on anybody's list. Of course it's great for photography too. You can find some great angles all around the fort, at different times of day as well, with the changing shadows and lighting effects especially in early morning or later afternoon when the sun is not too high. That makes it definitely one for the photographer's "must-take" list as well!
Not far from the fort is Barbar Temple, an excavated complex dating back to the third millennium BC. Not far from Barbar is the textile weaving village of Bani Jamra. Famous for its cloth weavers, the looms are very unusual in that the weaver sits in a small hollowed out area inside a shack drawing the yarn into the loom from a wooden post 8 to 10 metres away. It is excellent for photographs although flash will likely be required. This is no problem for the locals who are well used to visitors.
RELATED LINKS:
101 Things to See and Do in Bahrain
In search of the Garden of Eden